The Top 3 Easels for Toddlers Reviewed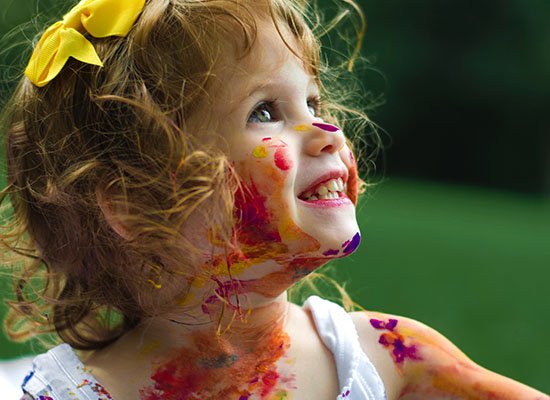 You want to see your children or grandchildren's creativity flourish. Maybe you even sense a budding artist when you look at your little one's drawings. What better way to do that than by providing them with an easel to help them explore painting or drawing! These days the options abound, so which one do you choose?
We've done the research and can recommend 3 terrific options for the best easel for toddlers:
Our top pick will give your toddler options. The Step2 Art Easel Kids Desk has an easel on one side and a desk on the other. This easel is a great choice, and we'll expand more about why further down in this post.
Next in line (but it was a close call) is the Step2 All Around Easel For Two, which, as its name suggests, is two easels in one. It folds nicely too when you want to store it.
For those with limited space, check out the Melissa & Doug Double Sided Tabletop Easel. It's a quality easel that's made of sturdy wood, and includes a 50-foot roll of white paper on an attached roller.
That's our top-level answer. Now we'll fill in the details so you can decide if you agree that our recommendations will work for your family.
Preview
Easel
Step2 Great Creations Art Center for Kids, Toddler Easel for Arts & Crafts, Double-Sided Activity Board, Ages 3+ Years Old
Step2 All Around Easel For Two
Melissa & Doug Deluxe Double-Sided Tabletop Easel
Preview
Easel
Step2 Great Creations Art Center for Kids, Toddler Easel for Arts & Crafts, Double-Sided Activity Board, Ages 3+ Years Old
Preview
Easel
Step2 All Around Easel For Two
Preview
Easel
Melissa & Doug Deluxe Double-Sided Tabletop Easel
The Best Easel for Toddlers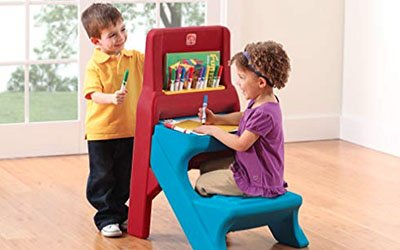 Our number-one choice for a toddler easel is the Step2 Art Easel Kids Desk. It was a close call between this one and number two on our list, which is also made by Step2. But because of this easel's multi-functionality, we put this one at the top this year. With an easel on one side and a desk with storage and organization on the other, this Step2 model not only works for two children at a time, but it also provides another kind of creative space for when the mood hits.
The folks at Step2 know what makes a good tool for toddlers. With all edges rounded and the desk adding stability, you don't need to worry about scrapes or pinched fingers. On one side is a dry-erase whiteboard with a clip to hold paper for times of painting and drawing. (And the surface wipes up well in case the painting gets beyond the edges of the paper.) There's also a small cubbie under the dry-erase board for holding crayons or markers and an eraser. On the other side is a desk with a built-in step-like seat, just the right size for toddlers. The desk surface is another dry erase board that opens up for storage, and above the desk is a slot for a couple of books as well as round slots to hold a dozen or so markers, brushes, etc.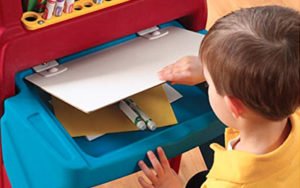 There are a few factors to consider before purchasing this easel-desk combo. At a size of 20 by 24 by 33 inches, you do need a bit of room. And it does not fold like our other two options, meaning you're not going to be able to tuck it out of sight as easily as the other easels we recommend. One other serious consideration is whether or not your child is a climber. The seat of the desk does resemble a step on a step-stool, and for toddlers who like to climb and explore, it may be too much of a temptation not to use the seat and then the desk to see how high they can get. And we certainly don't want them falling from any height!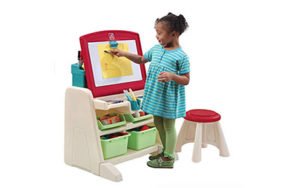 A good alternative easel that has a desk, seating, and storage but not the tempting step-stool effect of our first choice, is this Step2 Flip and Doodle Desk. The easel flips down into a desk, and there's oodles of storage with four slide-out bins, and multiple nooks and crannies for paints, markers, and other supplies our little artists need. There's even a built-in cup to hold a bit of water if your little one will be experimenting with watercolors. And one other added feature is that the dry-erase board is magnetic, so pull out those magnetic alphabet letters!
Pick up a set of these Crayola Dry Erase Markers and your child is all set to begin creating masterpieces.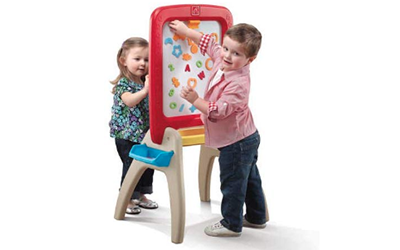 A close contender for the top spot, Step2 Easel for Two is a solid, high-quality easel that's a favorite of many. It has surfaces on both sides – one a chalkboard, and one a dry-erase board, which has a clip to hold paper for painting or drawing. A great feature of this easel is that the dry-erase side is magnetic, and the easel actually comes with a 94-piece foam letter and symbol set so you don't need to make the extra purchase.
The board measures 20 by 22.2 by 41.5 inches, so it's taller than our first choice, and might suit your child longer. It folds nicely so it can be stored in a closet or even transported to Grandma's house if you choose. Two removable storage bins and one larger tray (fixed in place) hold art supplies.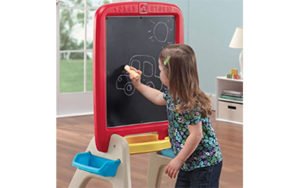 Part of the reason we dropped this to second place is that it actually is too tall for some toddlers. You might want to use a tape measure and decide if your child will be able to use it right away, or if you'd have to wait until your little one is older. Another occasional complaint was that the easel is difficult to assemble – that you need two people and something heavy like a rubber mallet to get the easel portion to click into the leg portion. But the overwhelming majority of purchasers gave this easel high marks, so we're calling it our second choice.
A set of chalk and holders like Melissa & Doug's My First Sidewalk Chalk Set with Holders makes a fitting supplement to the easel – your toddler will love the chunky holders that help with grasping and hand-eye coordination.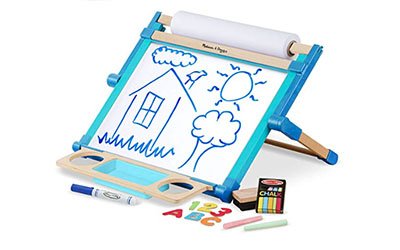 Speaking of Melissa & Doug, their Deluxe Double-Sided Tabletop Easel is our third choice, and a good option for those who either don't have as much space or prefer to choose wood products over plastic. Like all their products, this foldable easel is sturdy and durable. And because it has a slimmer, more sophisticated design, your child will use it long past toddlerhood. The easel measures 22.5 by 18.8 by 3.5 inches and folds flat. When the stand is opened, either of the two sides can be chosen: on one side is a magnetic dry-erase board (and comes with 36 number and letter magnets), and the other side sports a chalkboard. Also included is a dry-erase marker, an eraser, and 5 pieces of chalk.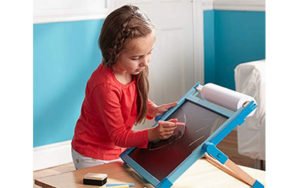 One of the features we like best about this easel is the 50-foot roll of white paper that is attached to a dowel on the top. No more scouring the house for paper for your toddler's masterpieces! The dry-erase side of the easel has a flip-open tray with two cup holders, perfect for a bit of water for painting. And standing behind the quality of this easel is Melissa & Doug's "100% Happiness Guarantee" – they say that if your child is not inspired, then give them a call and they'll make it right. That helps you choose their products with confidence.
A majority of purchasers are very happy with this easel for their toddlers. A few parents have complained that the chalkboard side of the easel is not as high quality as they would have liked. The recommendation is to be sure you prime the chalkboard before using, by rubbing the side of a piece of chalk over the entire surface. Also, some have had trouble with the easel sliding around on the tabletop. Placing the easel on a rubberized or similar surface, or attaching pieces of rubber or other grippy material on the bottom would also help with that issue. But overall, the Melissa & Doug Tabletop Easel is a winner as an easel toddlers.
Now that we've talked about fueling our toddlers' creativity, here's a video that shows how you can teach your child to paint a car:
Summary
Encouraging children's creativity is totally rewarding and worth investing in. Choose any one of these fine easels, and your child will not only be thrilled, but will provide you an unending supply of original works of art!