Crafts Are Our Passion
Welcome to Your Craft Finder! We're here to help you find the tools and supplies you need for whatever craft you are passionate about today.
Often, the tools needed for one craft form are useful for other forms as well. A good pair of scissors, or a hammer with a comfortable grip, for example, can be ported from craft to craft. Sometimes, though, it's best to have tools that are reserved for one craft only – my mother taught me that her fabric scissors were only to be used for fabric; another pair had to suffice if I wanted to cut paper. And because our craft dollars were limited, we learned to do research before we purchased tools, machines, and even some of our supplies.
Today, our interest in various arts and crafts continues to grow; now you can benefit from the research we are doing. Currently, we are exploring the broad categories that follow.
Papercrafts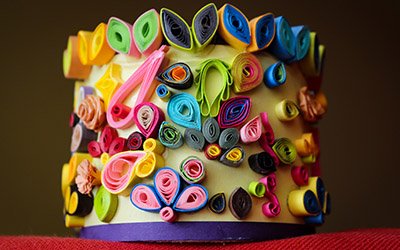 Included in this category are crafts such as scrapbooking, card making, bookbinding (and the related book arts), quilling, papercutting (Scherenschnitte), origami, papermaking, and more. Some craft forms, like screenprinting (serigraphy), are harder to categorize; but since screenprinting can be done on paper, we'll include it here.
Most of us have our first introduction to papercrafts before we enter school. Drawing pictures, folding paper and cutting to make snowflakes, and explorations with scissors and glue mark our preschool years. But many of us never outgrew our love for paper! Our tools may become more sophisticated, but creating with paper is just as satisfying as it ever was.
We help you navigate the latest and greatest tools and supplies to keep up the papercrafting fun!
Metalsmithing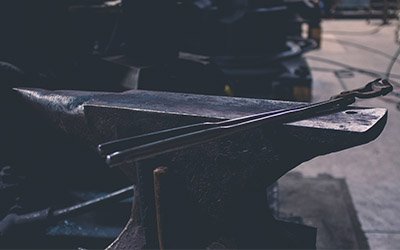 Metalsmithing is an ancient craft form that's seeing a resurgence and some exciting innovations. Metalsmithing is a means to create distinctive jewelry out of metals, whether precious metals like gold and silver, or more common metals like copper, brass, tin, and steel.
This art form often involves heating metals with a jeweler's torch, and hammering or otherwise cajoling the metal to change its shape and possibly its color to conform to your wishes. Innovations in some of the tools and technology have made this a safe and rewarding activity for the home workshop.
We'll give you recommendations on must-have tools, and provide tips for using them.
Painting
Painting is an art and craft form that has captured the passions of many people. The beauty of the painted image speaks directly to the heart. Acrylic, oils, watercolors – all are worth exploring. A visit to any museum shows the incredible variety of painting styles and themes – abstracts, still-lifes, portraits, landscapes, and many, many more.
The tools for a painter can be as simple as a brush and a canvas. But other helpful tools like easels, portfolios, lighting, and stools can make the process more enjoyable and effective.
We can help you find those things and more.
Sewing
Creating clothing and home decor from fabric is intrinsically rewarding as well as functional. The comforting feel of the fabric in your hands as you work to create an item that will be worn or admired by a loved one is part of the joy of sewing and quilting.
And the profusion of new fabric designs is enough to spark creativity in us all! Strolling through a fabric store, feeling the textures and cloth weights, and picturing items just waiting to be made is an enjoyable way to spend an afternoon.
We're here to help you make decisions on sewing machines, threads, scissors, and fabrics to help you create satisfying results.
Check this list of sewing tools to get started.
Woodworking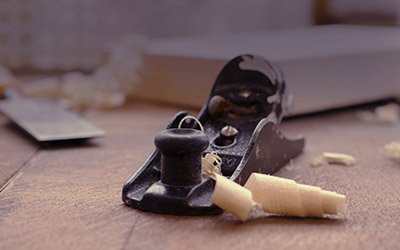 Once thought of as a "man's craft," woodworking, also known as woodcraft, has been growing as a craft of choice for women as well. Creations range from furniture to bird houses to sculpture.
There are many tools used by woodworkers: smaller hand-held items like planers, knives, sanders, and hammers, all the way up to large saws, lathes, and routers. And then after the wood item is created, supplies like stains, sealers, and other finishing materials are available to give your creation just the look you want.
We help you find the right tools and supplies for each project you have in mind.
Pottery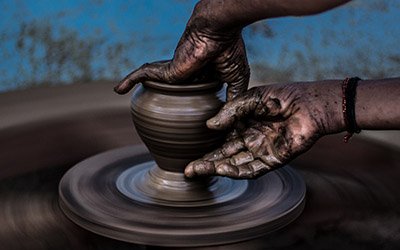 Pottery is one of the oldest art forms on earth. Archeologists have unearthed creations dating back over 30,000 years! Initial creations were intended to make life easier – bowls, pitchers, and other everyday objects for utilitarian purposes. But before long, the human need for creativity emerged and resulted in decorating these earthen vessels to add beauty and significance.
Today we consider "pottery" to be a item made from a ceramic material (most often clay) that is then heated at high temperatures in a kiln that evaporates the water and causes the item to have more permanent, unchanging attributes.
Whether you are interested in working in earthenware, stoneware, or porcelain, we'll help you find the tools and supplies you need.
Recent Articles