The Top 3 Nose Bridges for Masks Reviewed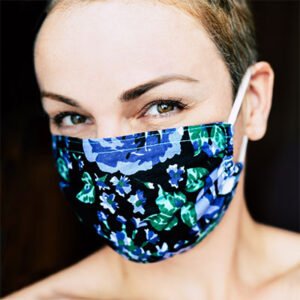 Love them or hate them, masks are currently a necessity. And since we love to sew, why not make your own masks? Or make them for gifts or even to donate. And the best masks aren't just fabric and elastic, but rather they include a metal nose bridge for a better seal. Better seals keep more droplets out, and they also keep your glasses from fogging up.
We looked at several nose bridges to see which ones work best for making face masks. We took into consideration adhesiveness, bendability, and choice of purchase quantity. Here's what we found.
Preview
Top Choice


Top Choice
Preview

Preview

Best Bridges for Nose Masks
We love that these nose bridge wire strips for face mask making are self-adhesive. And the adhesive works on fabric as well as on other materials (in case you have some other project requiring 3 and a half inch metal strips). The price for 100 pieces is very reasonable, and allows you to share with others who may also be sewing face masks.
One nice feature of the self-sticking adhesive is that if you already have some face masks that don't have an adjustable nose bridge – made from fabric or another material – you can adhere one of these nose strips right to the top. Then you can conform the mask to your face and increase your protection.
In addition, these nose bridge strips are available in different quantities should 100 not be what you are looking for.
Aluminum Strips Nose Wire Metal Nose Bridge Nose Bridge 90MM Nose Bridge Bracket DIY Wire Adhesive Back for Sewing Crafts (100PCS)
NOTE:Trademark"Debispax",exclusively provided by " Debispax" only,and we haven't authorized any stores to sell our items. if you find them below our listing, they are all counterfeiter/forgery.
[Proper Size]: It conforms to the face fitting standard, able to Cling flat to the nose bridge. With length of 90mm / 3.5inch, width of 5mm / 0.2inch and thickness of 0.3mm/0.01inch.
[Widely Used]: It can be directly applied to the surface of various textile fabrics, fabrics, silk fabrics, metals, stones, plastics, etc., and it is firmly adhered and not easy to fall off.
[Easy to Shape]: This nose stick is made of pure aluminum, which is not rusty, discolored, bendable, easy to shape and rebound, and keeps the original shape. Long service life, very suitable for all kinds of crafts and handmade.
[Production Process]:We have our own factory, which can produces 1 million pieces every day. If you need a lot of goods, please contact us.
These nose bridges are made of flat aluminum wire, so they easily lend themselves to being sewn into your face mask. We like these because they are easy to work with. Though the product description says they are adhesive, they really are not. But by stitching them into a small pocket at the top of the mask, or by doing a wide zig-zag over the top of them, they do the trick. They come in a group of 50, so you can make plenty of masks before running out of nose bridges.
No products found.
And finally, our third pick for best nose bridge wires for face masks is this set of aluminum nose wires. As with some of the others, you have options to select different quantities to purchase. These nose wires are self-adhesive, each one with an individual peel-off coating rather than on a roll. They are very flexible, and work well for masks. You can even use these adhesive nose wires to set on top of bandanas for a quick no-sew mask!
Sale
FVANOR Aluminum Metal Nose Wires Bendable Twist Ties Bridge with Adhesive Back 85x5mm
Nose Bridge Strips Aluminum Metal Nose Strip Adjustable Nose Clips Wire for DIY Face Mask Making Accessories for Sewing Crafts.
Size: about 5mm(0.2inch) wide.
Wide Application: aluminum strip nose bridge can be used for Sculpturing, wire weaving, decorating, crafting, beading, jewelry making, florist arranging, handmade DIY, gardening, or wrapping.
Excellent Property: It has the excellent property of bending and deforming with the action of external force, not rebounding without the action of external force, and keeping the existing shape unchanged.
Soft & Flexible: Our nose bridge wire ia solid aluminum, rusting & tarnish free, can be bent easily and used for a long time; Great for craft projects and jewelry making.
Conclusion
With the ease of purchasing and using nose bridge wires, there's no reason not to choose one of the three options listed here in your own creations. Face masks with nose bridge wires are comfy and secure, and also very affordable when purchased in bulk.
Video
Just in case you don't already have a favorite face mask pattern, you can check out the video below. This person doesn't add the nose bridge, but adding one is a snap! Whether you just adhere one to the top of the mask, or sew one into a pocket on the inside, you'll be creating a better, more protective face mask.