The Top 4 Scissors For Cutting Felt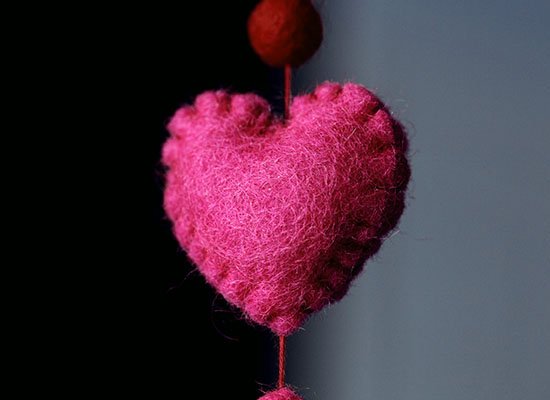 Let's face it – any regular old pair of scissors can cut through a variety of materials reasonably well. But if you are doing a high volume of cutting a particular type of substance, it can make a big difference which scissors you use.
Felt is a textile that is non-woven – it's made by matting and compressing fibers together, which means it has properties distinctly different than regular woven fabric. So people who work with felt deserve to have an appropriate pair of scissors. Choosing the best scissors for cutting felt can:
reduce the time it takes to cut each piece
increase the accuracy of each cut
reduce the stress on your hand resulting from multiple cuts.
So if you find yourself cutting felt pieces for crafting with kids, or for creating multimedia artworks, or for sewing costumes, or any other type of craft, then continue reading to find the optimal scissors for felt.
The Best Scissors for Cutting Felt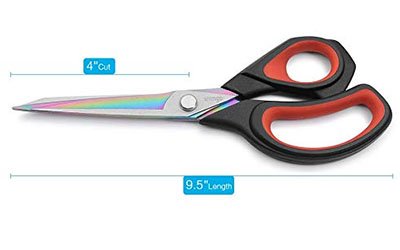 These professional scissors are made of high-density steel and cut through the felt like a dream. Nearly everyone speaks highly of these scissors. They are very sharp and retain the sharpness a long time. And due to the titanium coating on the blades, they resist corrosion and adhesives. So if you are cutting felt that has been glued together, you won't ruin the blades. And that rainbow on the blades: that's not a trick of the camera – the titanium coating is actually multicolor!
The soft grip handles ease the strain on your hand, allowing you to cut longer without pain. Best of all, the manufacturer stands behind these scissors with a lifetime warranty. You won't go wrong choosing these Livingo scissors.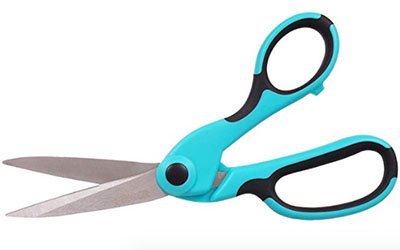 These scissors by Singer have a comfort grip that helps when you're making lots of cuts. It helps to cushion your hand and prevent excess strain. Unlike the Livingo scissors above, they are bent at an angle, which some people prefer for making straighter cuts. The blades are tempered and ground on both sides for sharpness. They can be sharpened if necessary. And Singer also stands behind this pair with a lifetime guarantee. These scissors pair really well with the Singer ProSeries Detail Scissors if you also need to make small, fine cuts in the felt.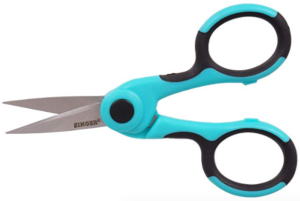 This video by Miss Mouse Makes shows the difference between cutting larger pieces of felt with larger scissors and cutting small pieces with smaller scissors that allow more control, even if you have to cut through multiple layers of felt:

Classic dressmaker's scissors like these by Gingher are designed for fabric, but because of their heavy-duty solid construction, they hold up well for cutting thicker materials like felt. And the bent handle design facilitates precision cuts all the way to the tips with ease. The blades themselves are precision ground and crafted from forged steel, with a double-plated chrome-over-nickel finish. Included with the scissors is a nylon sheath for the blades when not in use.
Interestingly, Gingher will sharpen or repair the blades for you for a fee. You simply send them in and wait approximately 3-4 weeks to get them back, if you can stand to be without them for that long! Made in Italy, these workhorse scissors will not disappoint.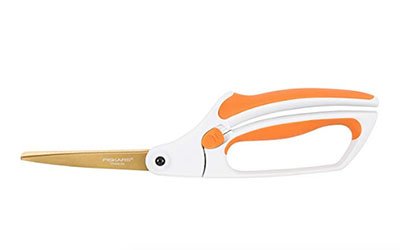 These scissors make the list in part because they were awarded the Arthritis Foundation Ease-of-Use Commendation for "a design that is easy-to-use for people with arthritis or limited hand strength." They have a spring action which is different than traditional lever action of the two blades. The spring gently forces the blades open after each cut, which is what helps reduce hand fatigue. It can take some getting used to at the beginning, but once you do, you may never want to go back to traditional scissors! They also have a locking mechanism to keep them closed when not in use.
The overall length of the Fiskars scissors is 10 inches, but the blades, which cut cleanly all the way to the tips, are about 3.6 inches long. Like the Livingo scissors, these Fiskars have a titanium coating on the blades to resist wear and corrosion. The coating is 3 times harder than steel! And Fiskars also offers a lifetime warranty on this model. If you have strength or mobility issues with your hands, the Fiskars Easy Action Scissors is the pair for you.
Summary
Cutting felt comes with challenges, but you can find great scissors to make your craft life easier. Check out the ones we've mentioned and see if they'll work for you. Remember, the right tools make loads of difference in your enjoyment level while crafting!