What's the Best Sewing Machine for a Fashion Design Student?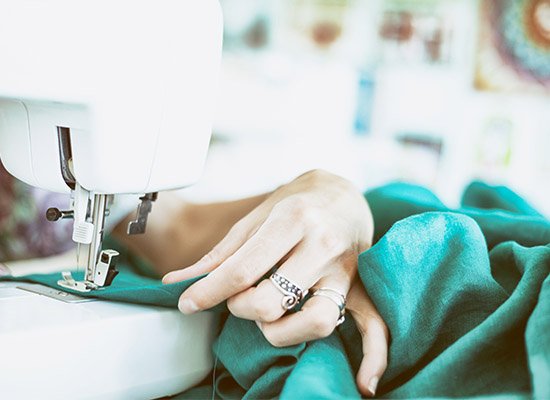 You love sewing and you feel called to go into fashion design full time. You're enrolled/going to enroll in a fashion design program at a college or university, and you want to make the best choice in choosing a major piece of equipment: a sewing machine that will serve you well for a long time. With so many options, which one do you choose?
Depending on your budget, we recommend 3 primary options for the best sewing machine for fashion design students:
If you want to get the gold standard, and you can afford to invest around $1,000, then get an industrial machine like our pick, the JUKI DDL 8700 Industrial Single Needle Sewing Machine with Servo Motor. You will be using an industrial machine in your courses (quite possibly a Juki), and to be familiar with using an industrial model this is a great choice. We'll expand more about why further down in this post.
If you'd rather keep your spending to the $500 – $750 range, then we recommend another Juki model, the JUKI TL 2000Qi Sewing and Quilting Machine. Selling for just under $700, this fine machine will meet the heavy demands of a fashion design student.
For those that are trying to do their best with a very limited budget, check out the Brother SE600 Computerized Sewing and Embroidery Machine. It's a quality machine that includes lots of built-in stitches, a large color touch screen, plus an intriguing number of embroidery functions, including the ability to import your own embroidery design files via usb from your computer.
That's our top-level answer. Now we'll fill in the details so you can decide if you agree that our recommendations will work for you on your way to becoming a fashion designer.
The Best Sewing Machine For Fashion Design Students
Best Sewing Machine $1,000 and Up
If you are committed to investing in your fashion design future, and you can swing the money, then look no further than the Juki DDL 8700 to deliver all you need for college and beyond. You will be using industrial sewing machines during your courses at school, and you'll be ahead of the game if you are also using one at home. Industrial machines are built to take the long hours you'll be sewing, and to handle all manner of fabrics, trims, and threads you'll use. They also can save you time in the long run, and time is a limited resource.
Juki is one of the top brands on the market. Many design schools use Juki machines in their sewing labs so you know that they make solid, dependable machines.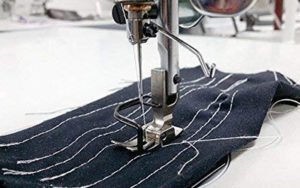 The Juki DDL 8700 is a workhorse of a machine. It sews a lightning fast 5500 stitches per minute, helping you complete your projects in the time allotted. The Servo motor allows maximum control, and runs quietly to help keep your housemates happy. It's well-made, runs smoothly and jam-free, and produces world-class stitch quality, according to users. This Juki model comes with a table, so be advised it is not a portable machine. You will be using the college's machines while on campus, then coming home to your own similar machine with its own set up, which will save you the time-waster of getting re-oriented to a significantly different machine setup.
The following video is an excellent overview of the Juki DDL 8700. He explains the major parts of the industrial sewing machine:
A good addition to this Juki sewing machine is a set of presser feet and industrial needles. We recommend 5 Presser Feet for Juki Industrial Sewing Machine and Organ DB Industrial Needles 16X257 (10pk).
Best Sewing Machine $500 to $750
Considered to be a semi-industrial machine, the Juki TL-2000Qi is a high-quality, powerful machine backed by the excellence of the Juki brand. Rather than coming with a table like the Juki model above, this sewing machine is portable. It has sturdy feet, and comes with an extension table for a nice, wide work area (up to 23 inches with the auxiliary table attached). It's got automatic thread cutting, which is another time-saver that saves thread as well. In fact, the automatic thread trimmer can be activated either by pushing a button, or by the foot controller.
The Juki TL-2000Qi has been engineered like an industrial machine, with the arm and bed constructed of aluminum die-casting. That means lower vibrations without losing the quality of the stitching. It also means that it's possible to attach several types of industrial presser feet. A knee lifter lever lets you raise and lower the presser foot without using your hands – super convenient! The LED lights and automatic needle threader are other features that help make your work easier.
Pick up some needles like Organ Sewing Machine Needles (100 pack, Size 14) and you are ready to start sewing!
Best Sewing Machine Under $500
Let's face it: fashion design school is expensive, and sometimes you just need to minimize your costs. But you will still need to be able to get a machine that is dependable and versatile. The Brother SE600 is that machine. Backed by a 25-year limited warranty and free technical phone support for its lifetime (!), you can be sure that you won't be left without help should issues arise.
This machine does both sewing and embroidery. As a fashion design student, most of your initial work will only require the sewing capabilities, but knowing that you have more creative options when you are ready is a bonus. The Brother SE600 has 103 built-in sewing stitches, and the large digital display makes it easy to not only select a stitch, but it also tells you which presser foot is required for that stitch. It has a drop feed for creative free-motion stitching. And because it can do a zigzag, you may be able to skip owning a serger for a while. (You need to be able to do one or the other to finish off the edges of fabrics to keep them from fraying.)
The convertible free arm makes sewing cuffs, pant legs, and other cylindrical areas a snap. The automatic needle threader gets you set up faster, and the LED lighting helps you see better especially when working on dark fabrics. Included with the machine are the tools for embroidering (the embroidery arm and foot, and a 4″ hoop), 7 different sewing feet (zigzag, buttonhole, button sewing, overcasting, blind stitch, zipper, and monogramming), 3 pre-wound bobbins and 2 empty ones, a 6-piece needle set, foot controller, dust cover, and other necessary tools and cords.
Summary
Fashion design is an exciting career, and having a sewing machine to bring your own designs to life is a must. No matter what your budget is, we've outlined 3 solid choices that will move you closer to your goal. Happy sewing!